Purchase Samples

SABRE32 Ultra ADC
ES9102A
DNR (dB-A): 127 (Mono), 124 (Stereo) | THD (dB): -120 (Mono), -118 (Stereo)
32-bit Filter Programmable | I2S/SPDIF Ouput: Yes
Minimum order quantity 2, Maximum order quantity 10.
Your Cart:
You've reached the maximum.
There's a minimum for this product.
Powered by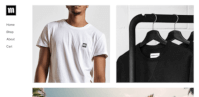 Create your own unique website with customizable templates.